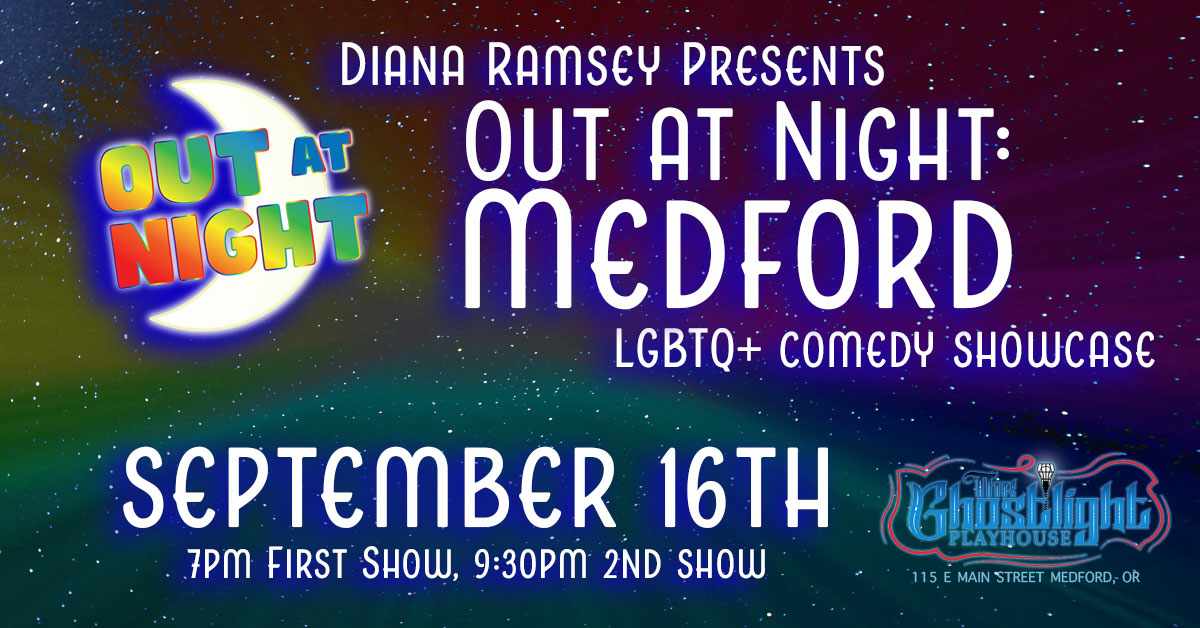 "Out At Night" is coming your way Medford after the unfortunate cancellation of the August 26th show and we're coming back BIGGER and we're "doubling down" on September 16th!
The cancelled August 26th show was a sellout. No tickets or room left. We were going to have to turn patrons away at the door.
Well, we are fixing that now as on September 16th, "Out At Night" is at the Ghostlight Playhouse in beautiful downtown Medford for TWO SHOWS!!
That's right: Two Shows, One Night! The first show starts at 7pm with the later show starting at 9:30pm.
And we are going even BIGGER than that as "Out At Night Medford: Double Down" will also be available to stream online directly through Ghostlight Playhouse's online service!
And I am bringing a stacked lineup of hilarious LGBTQ+ talent with me.
Eli Lockwood is our host and he will be welcoming:
Mark Sanders (Eureka)
Brandy Lara (Eureka)
Temple the Bard (Eugene)
Sarah Levy (Eugene)
Diana Ramsey (Eugene)
Sarah Levy will be headlining the 7pm show and Diana Ramsey will be headlining the 9:30pm show.
The original date of Saturday, August 26th was a complete sellout and a lot of those ticket holders are coming back for the September 16th show, so I would strongly advise getting your presale tickets while you still can.
$10 pre/$15 at the door/$10 to virtual stream. Click here for tickets – https://our.show/out-at-night-comedy-show-double-down