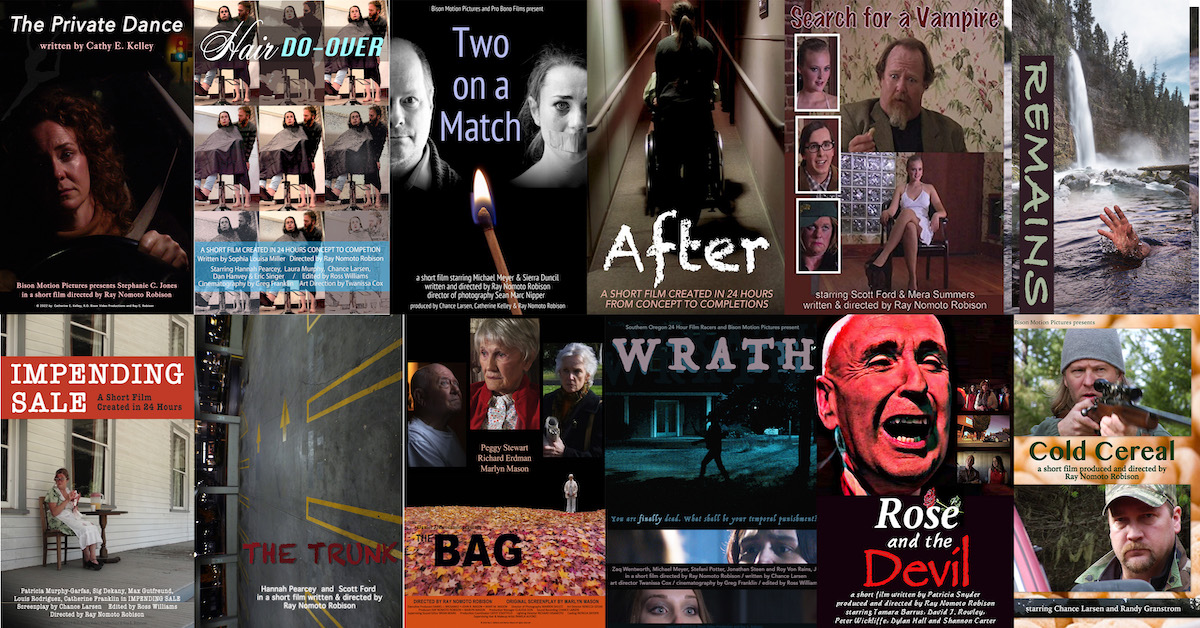 The Ghostlight Playhouse will be screening a baker's dozen of short films that were directed by Rogue Valley independent filmmaker Ray Nomoto Robison. There will be no Q&A but many of the cast and crew from these films will be in attendance.
Doors open at 5:30 pm and films start at 6:30 pm. Food and beverage will be available for purchase (this includes beer & wine).
Here is a list of the films we will be showing (not necessarily in this order) Total running time is 1 hour 52 minutes. There will be two 15 minute intermissions:
1. The Bag / written by Marlyn Mason and starring a couple incredible veteran Hollywood actors: Richard Erdman and Peggy Stewart
2. Remains to be Seen / Starring Marlyn Mason, Shawn Klush and Bill Luckett.
3. The Private Dance / written by Cathy Kelley and starring Stephanie C. Jones
4. Search for a Vampire / starring Scott Ford in a concept that spawned the feature film "Vampire Camp"
5. The Trunk / starring Hannah Pearcey in a film that won price money at a California film competition
6. Hair Do-over / Big winner in the 24 HOUR FILM RACE it was written by Sophia Miller
7. Wrath / written by Chance Larsen and stars Roy Von Rains and Michael Meyer. Official selection to Festiwal Filmowy Senior in Poland.
8. Impending Sale / Picked up by Troma Entertainment for its streaming service. The film stars Sig Dekany and Patricia Murphy Garfas
9. Rose and the Devil / written by Patricia Snyder and starring Tamara Barrus, Peter Wickliffe and David J. Rowley. Official selection to the Killer Valley Horror Film Festival.
10. Two on a Match / stars Michael Meyer and Sierra Duncil. Director of photography Sean Marc Nipper.
11. After / Greg Franklin and Scott Ford star in a film created in 24 hours – concept to completion. Official selection to the Klamath Independent Film Festival.
12. Cold Cereal / starring Chance Larsen and Randy Granstrom. Official selection to the Columbia Gorge International Film Festival.
13. The Bullet of Time written by David C. Hill and starring Peter Wickliffe and Douglas Rowe. Winner of BEST SCIENCE FICTION at the Clatskanie International Film Festival.
Some films are not suitable for younger viewers.